Chrome salt series
Chromium Picolinate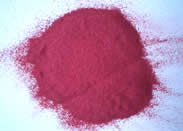 Product name: Chromium Picolinate
CAS No.: 14639-25-9
Molecular Formula:
Cr(C6H4NO2)3
Molecular Weight: 418.33
Structure: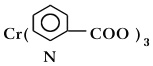 Characters: Small purple-red crystalline powder, stable at room temperature, slightly soluble in water, insoluble in ethanol, in which trivalent chromium as chromium.
Specifications:
Chromium Picolinate
USP31
Export of pharmaceutical grade
Purity[Cr(C6H4NO2)3dry]%
98.0-102.0
≥99.0
Chloride[Cl] %
≤0.06
≤0.06
Loss on drying(105℃)%
≤4
≤0.5
Chromium Picolinate
Feed grade
Feed grade(1‰hromium)
Purity[Cr(C6H4NO2)3 dry]%
≥98.5
≥0.08
Chromium[Cr] %
≥12.18
0.09-0.11
Lead [Pb] %
≤0.005
≤0.001
Arsenic[AS] %
≤0.0005
≤0.0005
Loss on drying(105℃)%
≤0.5
≤2.0
Product Usage: The cell membrane can be passed directly on tissue cells, enhance insulin activity, improve glucose metabolism in the human body to enhance immune function and increase stress and reduce disease; to promote animal growth rate, the promotion of protein synthesis. The promotion of gonadal development, improve the quality of ovulation, improve reproductive performance; reduced ketone body fat, increase lean meat ratio, meat quality significantly improved. Improve the breeder egg fertilization rate and egg production rate quality.
Packaging: 25kg cardboard drum, lined with double plastic bags.
Storage Precautions: Stored in a dry, ventilated, cool warehouse, against moisture and fire.